Training tomorrow's professional dancers
The teaching methods we implement within our Professional program are both centered on the individual and in line with the most up-to-date practices. Find out how we allow you to grow as a professional dancer!
Getting to work with very different choreographers
It takes being exposed to different visions to grow properly as a dancer. In order to help you develop your versatility, you will get to work with guest choreographers from diverse backgrounds who have different styles, creative methods, levels of experience… To find out more about who we work with, please check this page.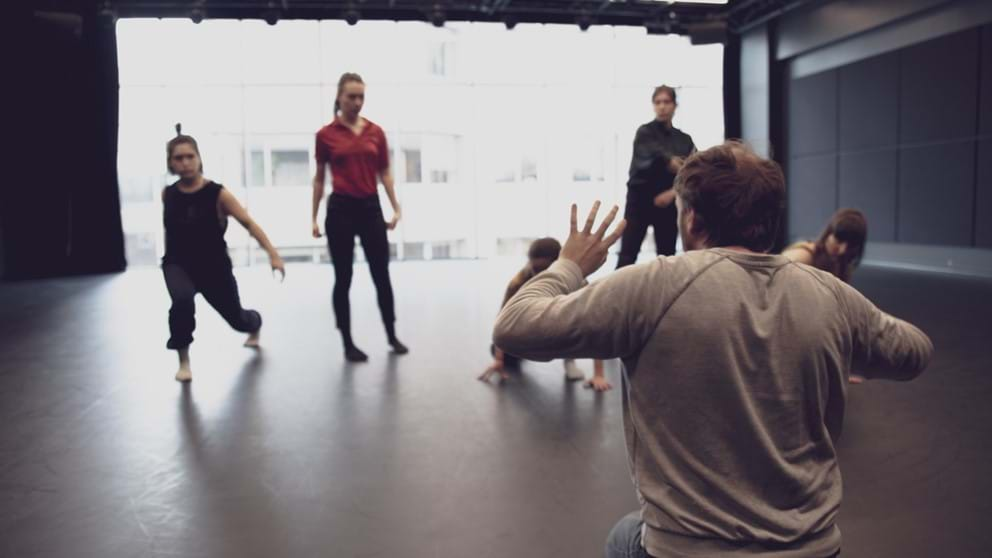 Creative process with Alan Lake, Photo : Maison pour la danse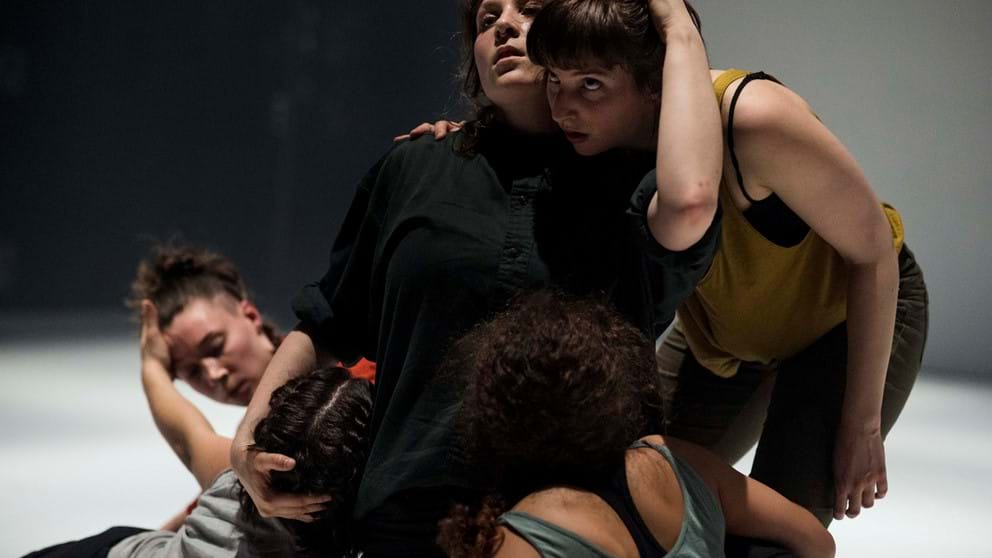 Alan Lake's creation, Photo : Llamaryon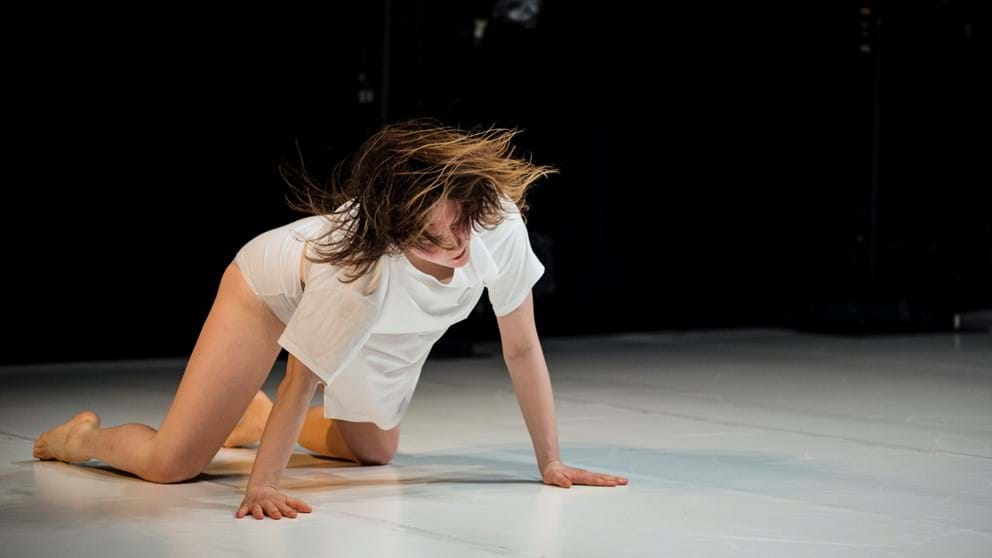 Daina Ashbee's creation, Photo : Llamaryon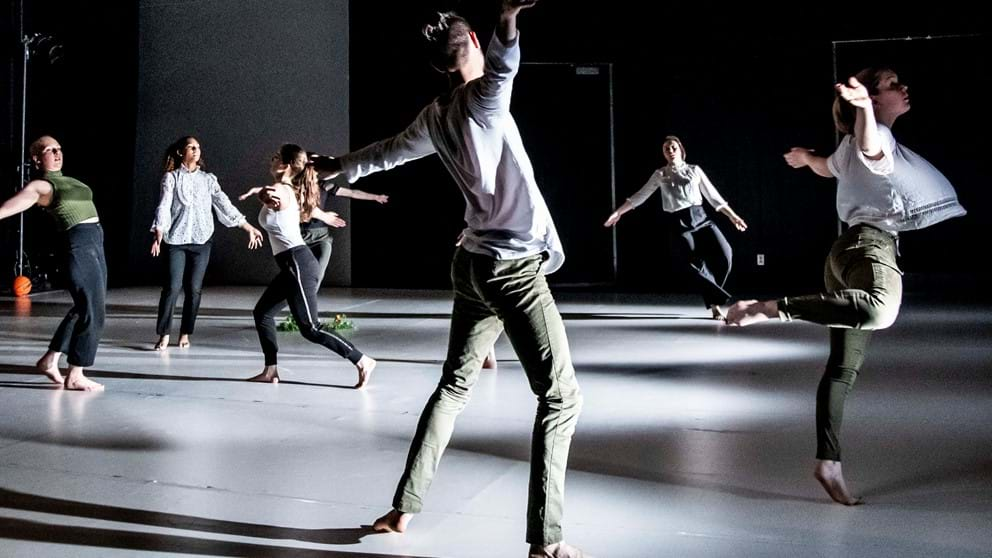 Yvan Alexandre's creation, Photo : Emmanuel Buriel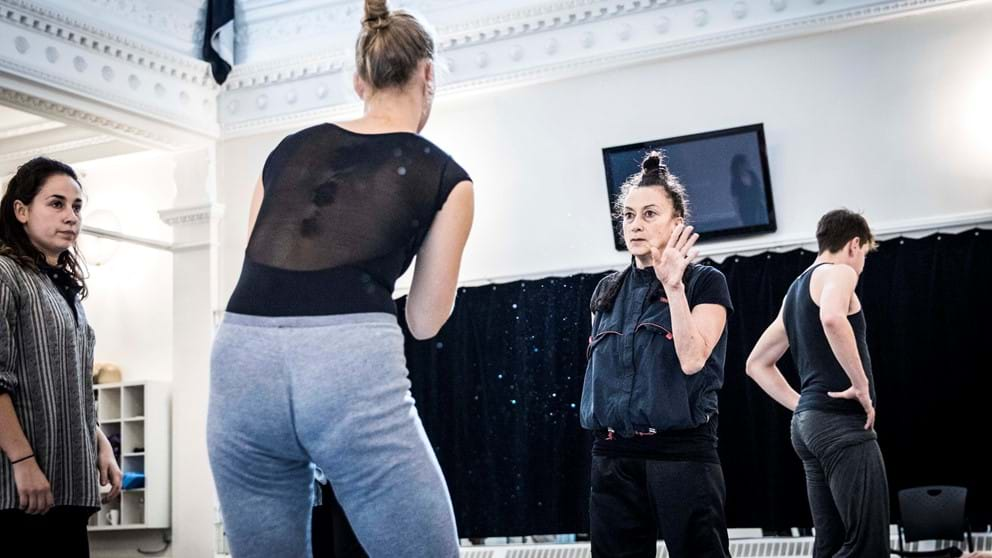 Creative process with Lina Cruz, Photo : Elias Djemil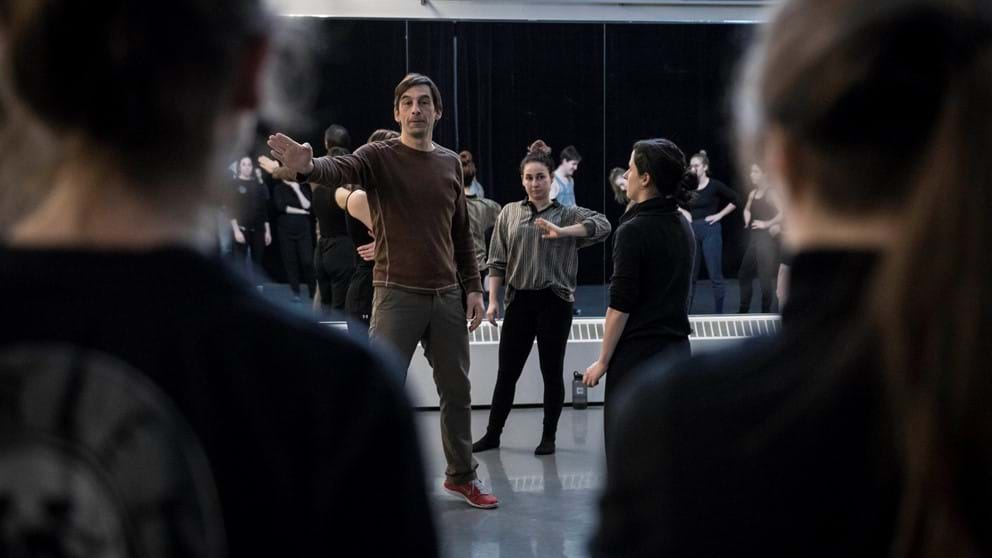 Creative process with Sylvain Lafortune, Photo : L'EDQ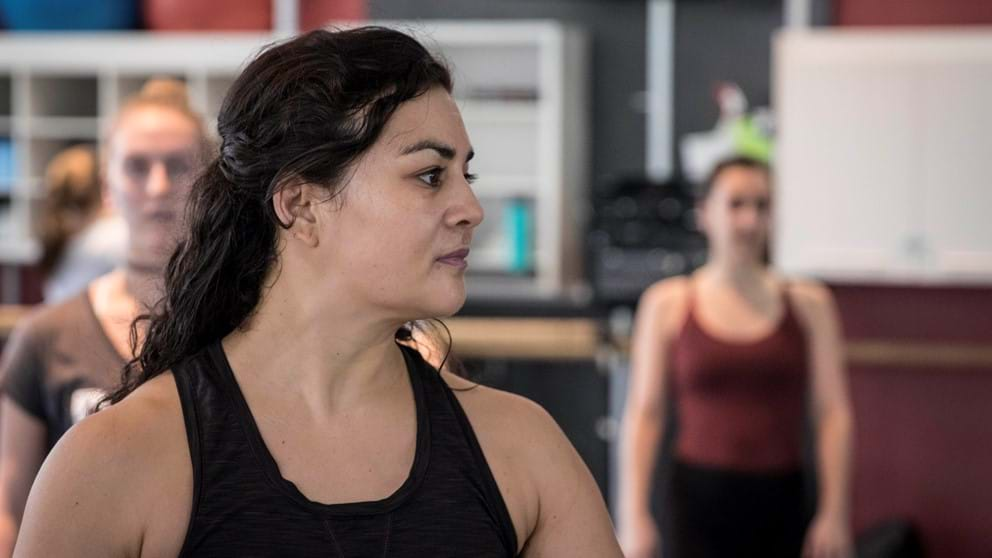 Creative process with Nina Wollny, Photo : Elias Djamil
Experience the most up-to-date teaching methods
On top of our dance classes, we initiate our students to a variety of somatic approaches (Franklin, Feldenkrais, Pilates, Yoga...) to help them become more body conscious and ultimately, put more purpose in their movements. Throughout the program, you will be guided by experienced and highly qualified professors who are always on the lookout for the most up-to-date practices.
Practice dance in safe and secure ways
Throughout the program, our students are taught how to improve and optimize their physical condition. They're even followed by a personal coach who teaches them how to prevent and handle injuries!
Our students receive different types of trainings so that, by the time they graduate, they know how to keep fit and dance in a safe and secure way. This way, they can enjoy longer careers!
Experience the world of professional dancers
Throughout the program, you will get to take part in professional projects such as Osez!, Nous sommes l'été, the Joan Miró project… which will enable you to learn, grow and ultimately, become a professional dancer more easily.
Perform on stage several times a year
Our students get to "professionally" interpret works from the contemporary dance repertoire, new creations or even personal creations in front of a live audience several times a year! The third year students even present a professional-level show during which they get to show their personal style and abilities.
Take part in multidisciplinary creations both in Québec and internationally
Offering poetic moments through movements, recreating powerful images inspired by visual arts while dancing, moving in sync with a juggler : our students are artists and as such must be able to mix dance with other art forms. This is why we partner with l'École de cirque de Québec, the Bouillon d'arts Multi, etc. and why we co-founded "La petite université de la danse" with several French schools of dance.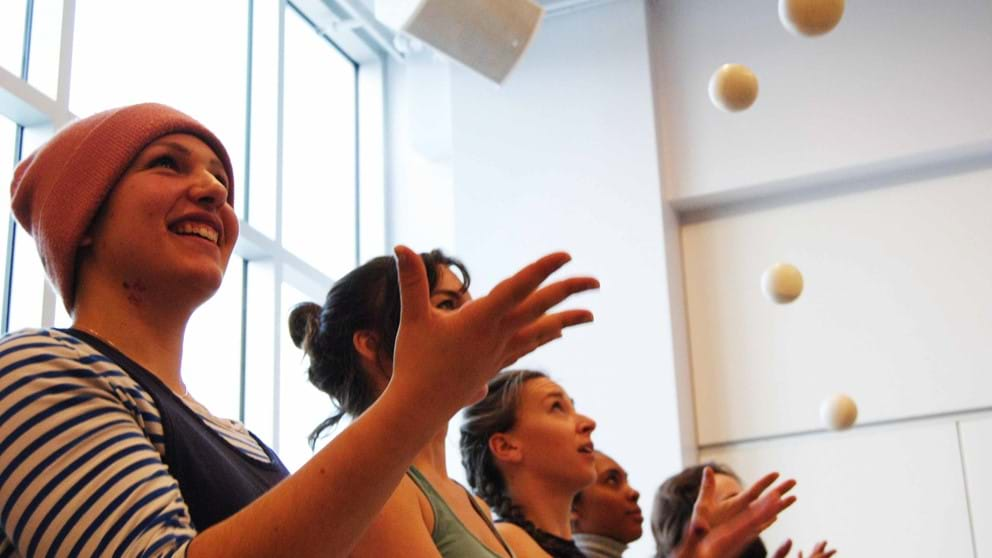 Workshop with L'École de cirque de Québec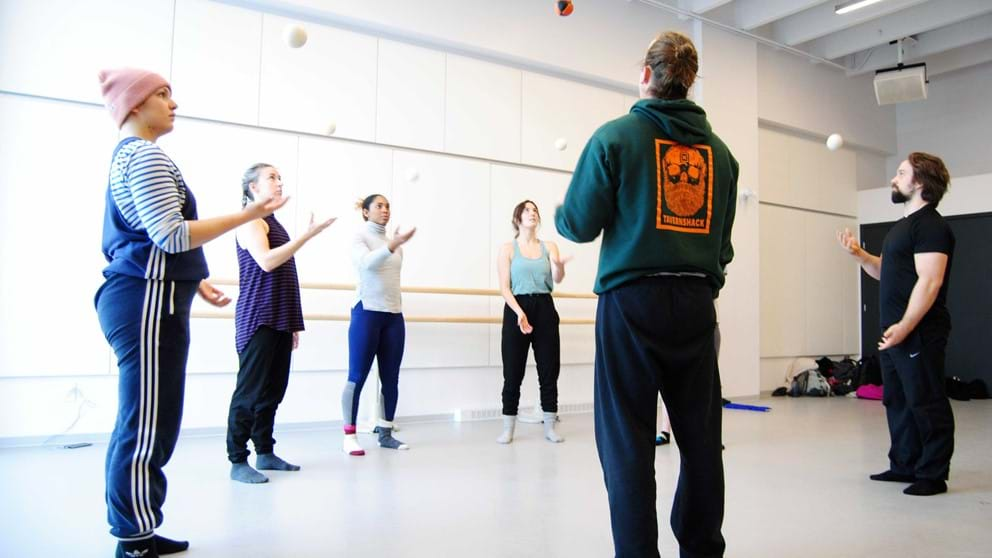 Workshop with L'École de cirque de Québec
Benefit from the Groupe Danse Partout inc.'s dynamics
Together with La Rotonde, a show presenter specialized in contemporary dance, and La Maison pour la danse, choreography center providing services that support professional dancers and their development, L'École de danse de Québec constitute the Groupe Danse Partout inc. The synergies between these three players energize the dance community in Québec city and create numerous opportunities for professional dancers :
Synergies between L'École de danse de Québec and La Rotonde :
Each year, La Rotonde invites around a dozen nationally and internationally renowned choreographers to Québec in order to showcase their creations. L'EDQ makes the most of their presence in the city by organizing classes with its students, thus enabling them work with a large number of established or promising choreographers.

La Rotonde offers discounted tickets to L'EDQ's students, thus enabling them to see inspiring shows at a reasonable cost.

Each season, La Rotonde presents shows from young local choreographers thus increasing the chances of L'EDQ's alumni who are interested in choreography to see their first creations showcased.
Synergies between L'École de danse de Québec and La Maison pour la danse :
La Maison pour la danse operates 6 state-of-the-art studios and a conference room (for more theoretical classes) in which L'EDQ's students regularly get taught, thus enabling our students to learn in outstanding material conditions.

La Maison pour la danse hosts many professional dancers and choreographers, thus enabling L'EDQ's students to be in touch with the milieu very early on and facilitating their integration even before they graduate.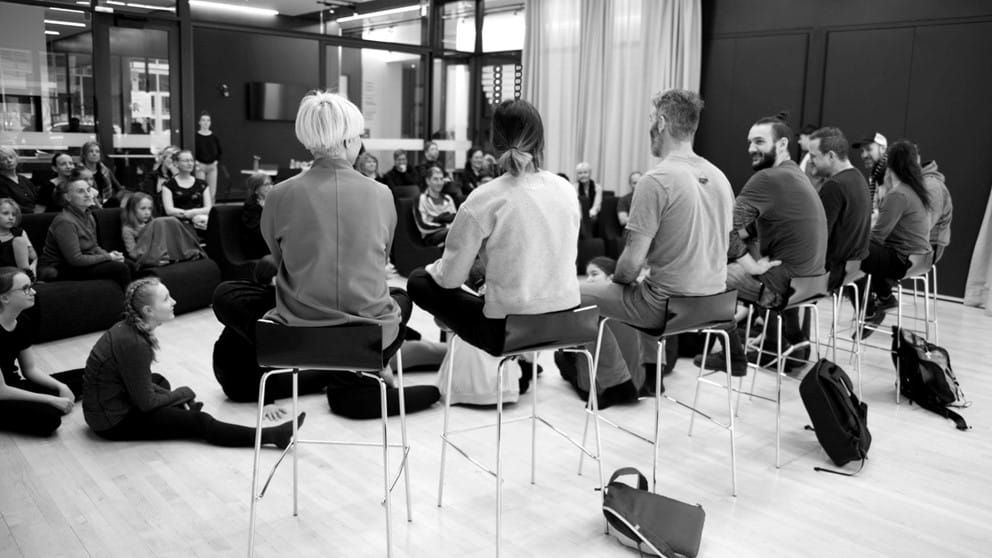 Meeting the milieu, Photo : Daphné Lehoux Traversy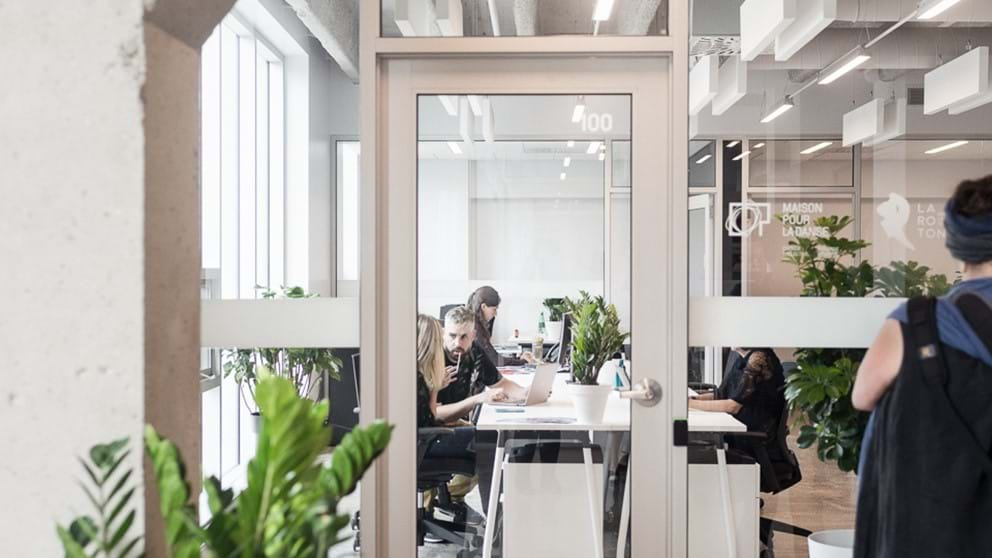 La Rotonde's offices in La Maison pour la danse, Photo : la Maison pour la danse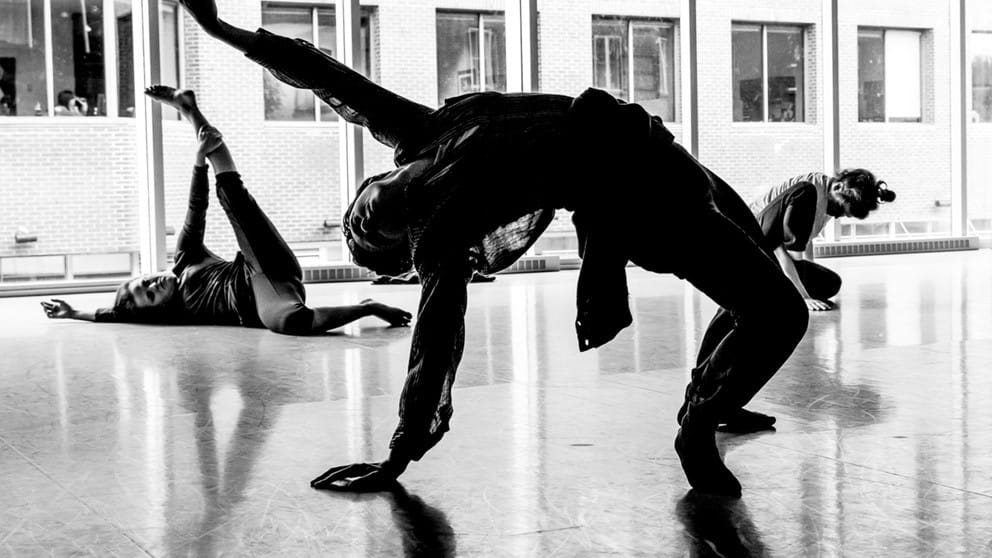 Class for professional dancers taking place at La Maison pour la danse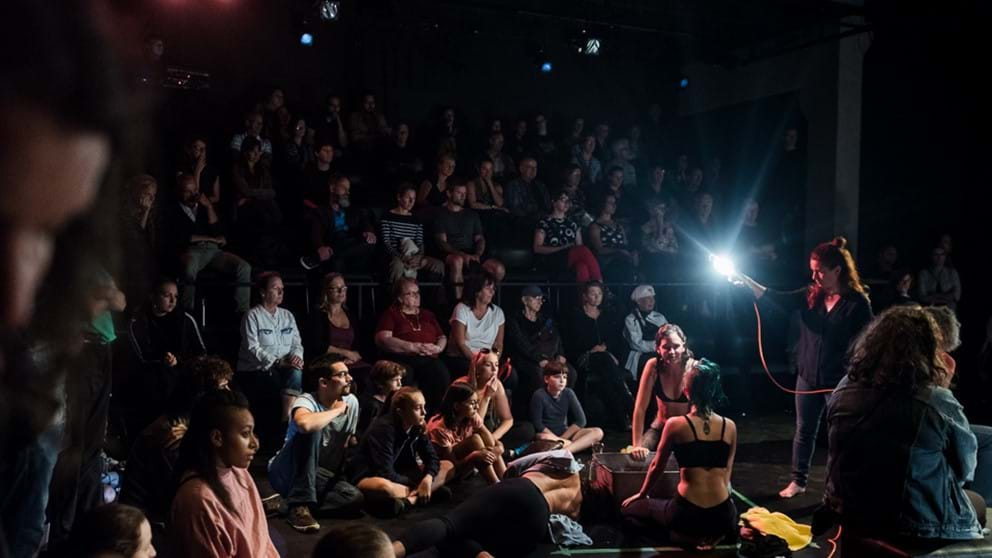 Osez! 2017, Photo : Llamaryon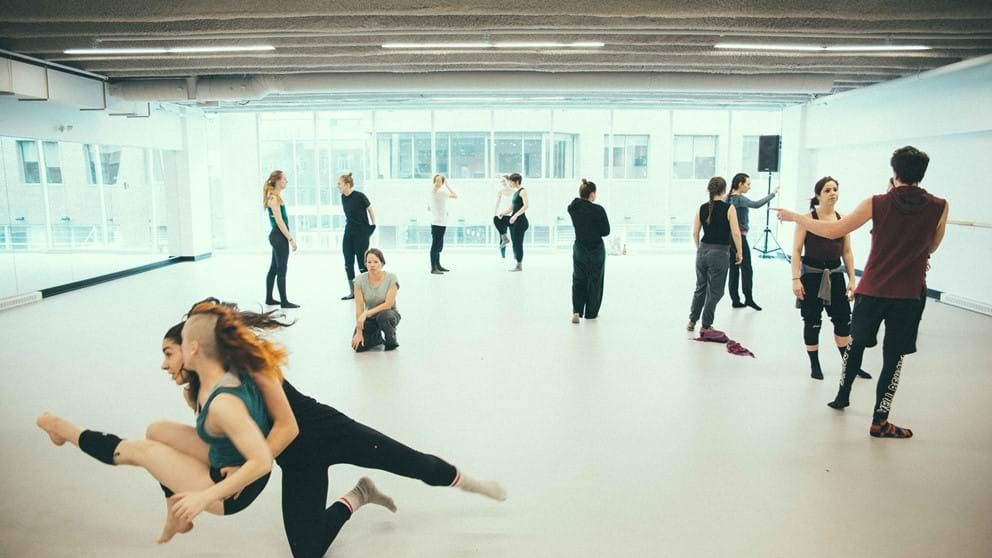 Third year students rehearsing at La Maison pour la danse, Photo : Maxime Daigle
Forge strong and healthy relationships
When studying dance at a professional level, one has to reveal himself/herself, take risks and expand his / her boundaries. This is why we try to make L'École de danse de Québec a safe haven in which you will feel free to explore, grow as a human being and create. Come audition for us and get a taste of that friendly, simple and caring atmosphere.
Study in inspiring places
Vast, fully-equipped, filled with light… the quality of our facilities is outstanding and meet international standards for professional dance practice. Old stones enthusiasts will love the Alyne-LeBel center and amateurs of modern architecture will love the raw beauty of La Maison pour la dance. Surrender to the charm of our facilities!
Québec : a feel-good city
Being an important touristic and academic hub (Université Laval, Cégep de Sainte-Foy, Cégep de Limoilou, ÉNAP, etc.), Québec city is filled with restaurants, bars, cafés and places to go out. As far as housing is concerned, many affordable options are available and our students do not usually face difficulties to find a place to stay.
The city is also filled with art and culture with several major local cultural organizations and events such as the Festival d'été de Québec, the Québec city film festival, the Carrefour international de théâtre, EXMURO arts publics, the Musée national des beaux-arts du Québec, the Musée de la civilisation, the Maison de la littérature… just to name a few !
Contemporary dance is also very present with companies like Le fils d'Adrien danse, Code Universel, Alan Lake Factori(e), Danse K par K… several show presenters like La Rotonde, the Grand Théâtre de Québec, the Les Gros Becs theatre and Le Diamant, etc.
Benefit from good deals on classes and shows!
As a student in our Professional program, you will benefit from several advantages :
Discount tickets to La Rotonde's shows,

Free access to all of our General public classes (jazz, ballet, contemporary dance, pilates, yoga, etc.),

Free access to all of our Professional program classes for two years after you graduate,

Etc.